02. Agenda
Agenda
30 years the choir has been singing on various occasions. During services in the synagogue, weddings, ceremonies and concerts. 
details:  http://www.facebook.com/pages/Amsterdam-Synagogue-Choir/127262213988338
Concert 15 juni 2015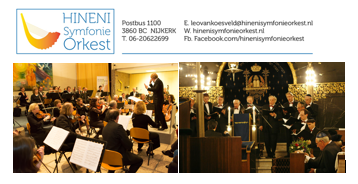 Datum: 15 juni 2016
Aanvang: 20:00 uur
Toegangsprijs: € 15,00 (online) – € 17,50 (op de avond)
Tot en met 12 jaar gratis toegang
Locatie: Brugkerk, Schuilenburgerweg 2, 3816 TB Amersfoort
Een concert van het Hineni Symfonie Orkest in samenwerking met het Amsterdams Synagogaal Koor. Dit concert vindt plaats aan de Icoon te Amersfoort.